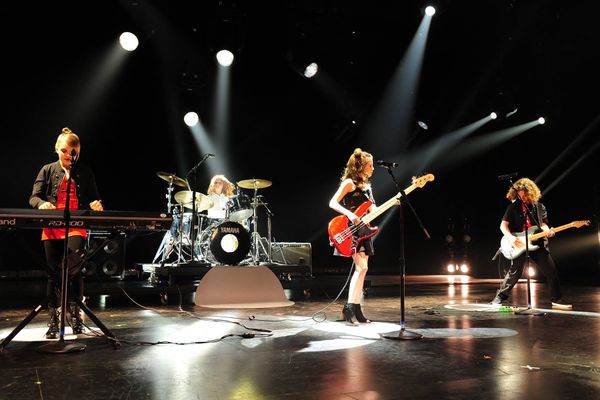 Our Story
This bio is out of date as the members of Minor Emergency are growing up.
Minor Emergency is a band of teenage musicians who play all kinds of music:  rock 'n roll, classic rock, blues rock and of course, country.  Brayden, Zoe, Luke and Jake are all local to the Desert and have spent the last four years performing frequently at all types of venues throughout the Coachella Valley.  (See past events on their webpage)  

Each member of Minor Emergency has a captivating personality that shines through on stage.   

Zoe is our incredible keyboardist and singer.  Fearless and so talented, her vocals are ready to tackle any style from Blondie to Rush.   Zoe plays tuba, trombone and classical piano.  She is involved with the local symphony and advanced band at her school.  Zoe is excited to perform any song the band wants to tackle next and is the daughter of an incredible musician, teacher and band director, Mikael Jacobson of BassLine Music. 
 
Brayden brings her incredible voice to the band in addition to being the bassist.  She loves to play country music on her acoustic guitar and enjoys all of the classic rock songs she gets to belt out on stage.  Brayden plans times for the band to get together to have fun beyond just the music!
 
Luke is the drummer not to be missed.  Not only is he a fantastic drum player, but Luke has this rocking long red ringlet hair that really should be considered the 5th member of the band.  With baited breath, the regular fans wait for him to get his head rocking at each performance.  After each show, he spends time signing autographs and taking photos with fans.
 
Jake is our incredible guitarist and vocalist. Jake also plays electric bass for DTension Band, double bass in the local symphony and piano.  Jake understands music so quickly and loves to help his band mates when tackling new songs.  He loves to surprise Zoe, Brayden and Luke with a jump or something entertaining on stage to bring their energy up to a new crazy level.  Jake performs his incredible guitar solos that inspire a roar from the audience every time.  
 
Minor Emergency is not only a solid band that draws a crowd....they are a great representation of music here in the Desert.  Jake, Luke, Zoe and Brayden each have an incredible story to tell and bring their own uniqueness to the band which gels so well as a group.  Minor Emergency has played several shows that started out with a small audience and were able to draw in a full crowd as people heard their great sound! They have enjoyed playing all types of events and venues for example: The McCallum Open Call Finalist Show, Paint El Paseo Pink, Big Rock Pub, The Hood, Hard Rock Hotel, Pappy & Harriet's, The City of Palm Springs events, The City of La Quinta events, Annual Fall Family Festival, private parties and many more.
 
Brayden, Zoe, Luke and Jake would love to put together a great set list for your event!  Below you will find a link to a one sheet overview.  In addition, please look around our website as well as our Facebook page.  Please look at their videos, click the links for Facebook, YouTube, and review their list of shows (clicking the past events as we had a full season the last few years and are just beginning to book our 2018 season.)
 
Thank you for your time in visiting the Minor Emergency website.  Should you have any questions,
please do not hesitate to contact us at 760-565-2263 or booking "AT" minoremergencyband "DOT" com .  We are excited for all opportunities and hope to be a part of your next event.
 
Sincerely,
Cherise Sonderman
Band Manager, Minor Emergency Band
 
Mikael Jacobson of BassLine Music
Band Director, Minor Emergency Band


Join our Facebook or mailing list so that Zoe, Brayden, Luke and Jake can keep you up to date on when they are performing and other exciting news!
Minor Emergency Bio
Some basic information about the band that you can easily email to someone else or print out.
147 KB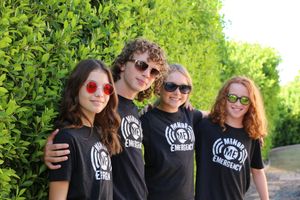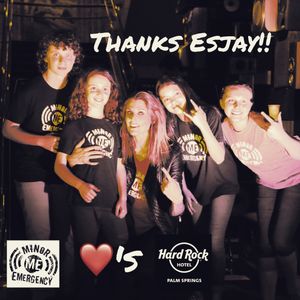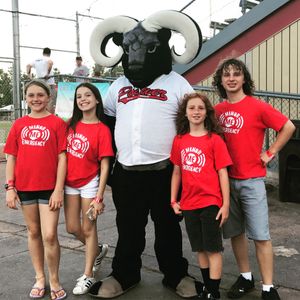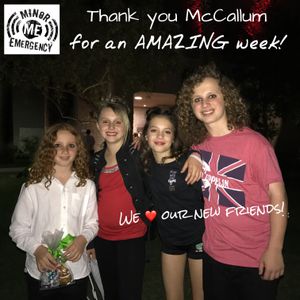 "It was a blast meeting and hanging out with you all last week! Not only is it VERY impressive to hear music that good come out of people so young, it's also a lot of fun. The song selections were great, the vocals, the drums, the guitar solos, the keys - were all spot on!
On top of that, I kind of got the feeling that I may have been watching a performance that will allow me to say: "I saw them back when they were kids playing in Palm Springs!"
I'll definitely keep you guys in mind for any future events and wish you the very best going forward. Don't hesitate to let me know if I can be of any further assistance.
Kindly,  Mike"
Mike Everett, Chief Meteorologist
KMIR/KPSE News, Palm Springs / Coachella Valley, CA
"I was shocked out of my mind the 1st time seeing Minor Emergency. These 4 tiny tots up on stage playing like Rock Stars.  Great energy, great stage presence.  I think if taken in the right direction these kids definitely have a future in the music business.  Plus the drummer's a beast!!"
Phil Lacombe, Coachella Valley Weekly